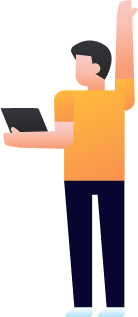 You sure want your website to stand out. Don't you?
Brandmark Media offers a wide range of expertise in website designing. We have a team of dedicated professionals which works meticulously on the website design and development projects.
We deliver not only aesthetically beautiful websites but also ensure the seamless functionality of the websites that we develop.  As a preferred website design company, we have worked in a variety of sectors, viz., Healthcare, Travel & Tourism, Legal, Entertainment, NGOs, Trading and Manufacturing.  We have worked with small local businesses, national and multi-national companies.
Working with Brandmark Media will let you experience the best web design for your business.
When we take up a website project, we know that it is not a one-sided affair. We have to develop a unique, efficient, and tailor-made site according to the client's specific needs and requirements. We put in innovation, creativity, and originality in our work. Our team of website designers are expert in implementing WooCommerce, Elementor, GoogleKit, SSL, Anti-Malware, Anti-Spyware and all other major website development plugins.
We develop websites on WordPress, which is has become a popular choice for website development in recent years across industries. Today, WordPress powers over 59% of all online websites. WP is a leading platform for website development because of its clean code and up-to-date technology. Add to that, WordPress websites are made with SEO in mind, so that search engines like Google, Binge, Yahoo, etc. can easily find, crawl and index all the pages of your new website.  These features make WordPress as a preferred platform used by most digital and web agencies including our own company, Brandmark Media!
Some Of Our WordPress Web Projects
Which Type of Website Do You Need?
Would you like us to work on your brand?